We are glad to offer you a powerful Bible app, which has possibility to download the best version of the Bible to your Android device: the King James Bible.
KJV is the most read English Bible, a masterpiece of English literature.
You can freely download on your device and read or listen then without Internet connection. Bible KJV Free is the best audio Bible offline.
Besides, with Bible KJV Free you can:
– Have the best English version on your phone
– Download freely
– Read or listen at any time when not connected to Wi-Fi
– Easily navigate to any book, chapter and verse.
– After a break, see the current verse of the book you were last reading
– Search by keyword: Look for specific words with our Search tool
– Switch into night mode to a high quality reading
– Bookmark and highlight verses
– Make list of Favorites
– Adjust font size (for a better Bible Reading experience)
– Copy, paste and share verses
– Share Bible verses on social networks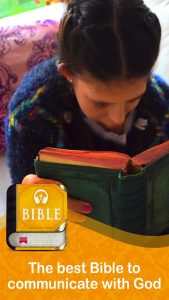 Believe what God says in his Word. Get this Bible now.
Reading the Bible makes us feel good; it gives us hope and strengthens our faith.
Enjoy King James Version, the most accurate and reliable translation we can read, very popular among Protestants and Protestant churches.
Created in the 16th century, this beautifully written Bible was authorized by the king James I, the head of the Church of England. A group of scholars worked for years to make a new English translation that becomes over time the best English version of the Bible.
Download and share the complete King James Bible, with its 66 books:
Old Testament: Genesis, Exodus, Leviticus, Numbers, Deuteronomy, Joshua, Judges, Ruth, 1 Samuel, 2 Samuel, 1 Kings, 2 Kings, 1 Chronicles, 2 Chronicles, Ezra, Nehemiah, Esther, Job, Psalms, Proverbs, Ecclesiastes, Song of Solomon, Isaiah, Jeremiah, Lamentations, Ezekiel, Daniel, Hosea, Joel, Amos, Obadiah, Jonah, Micah, Nahum, Habakkuk, Zephaniah, Haggai, Zechariah, Malachi.
New Testament: Matthew, Mark, Luke, John, Acts, Romans, Corinthians 1 and 2, Galatians, Ephesians, Philippians, Colossians, 1 Thessalonians, 2 Thessalonians, 1 Timothy, 2 Timothy, Titus, Philemon, Hebrews, James, 1 Peter, 2 Peter, 1 John, 2 John, 3 John, Jude, Revelation.
Download it now and do not miss the opportunity to listen the Holy Word. We hope you find this Bible app a blessing!