This is a great app to have on your phone if you are a woman devoted to God. Download this Bible with a feminine touch and be blessed by the Holy Word of God every day.
You can read the Bible anytime everywhere, in the church, at home, at work.
A woman who is devoted to God knows that only God can fulfill her heart and provide her security, peace and protection.
A Christian woman knows the Word of God. The more she studies the Bible the more she believes in God and God begins to shine through her.
Enjoy the features of the Woman Bible App now on your phone: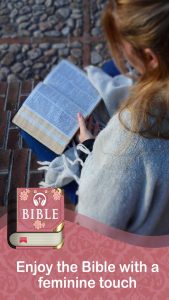 – Free download
– Audio Bible to listen every verse you want
– Offline Bible (You can read the Word without Internet connection)
– Night mode: to minimize the stress of your eyes so you can enjoy your bible reading
– Quick search of books and chapters
– Ability to increase and decrease the font
– Copy, send and share verses
– Bookmark your favorite verses
– Make a list of favorites
– Go back to the last verse read
– Keyword research
Enjoy the complete version of the Bible containing the Old and the New Testament:
The Old Testament has 39 books total, which consist of: Genesis, Exodus, Leviticus, Numbers, Deuteronomy, Joshua, Judges, Ruth, First Samuel, Second Samuel, First Kings, Second Kings,
First Chronicles, Second Chronicles, Ezra, Nehemiah, Esther, Job, Psalms, Proverbs, Ecclesiastes, Song of Solomon, Isaiah, Jeremiah, Lamentations, Ezekiel, Daniel, Hosea, Joel, Amos, Obadiah, Jonah, Micah, Nahum, Habakkuk, Zephaniah, Haggai, Zechariah, Malachi.
The New Testament has 27 books total, which consist of: Matthew, Mark, Luke, John, Acts, Romans, Corinthians 1 and 2, Galatians, Ephesians, Philippians, Colossians, 1 Thessalonians, 2 Thessalonians, 1 Timothy, 2 Timothy, Titus, Philemon, Hebrews, James, 1 Peter, 2 Peter, 1 John, 2 John, 3 John, Jude, Revelation.
God is about to start work!
May God bless you, woman, in this beginning.