This Bible will help you to study the Word using a language that is easier for people to understand and commentaries, explanations and notes. Download it with confidence, we are sure that this version will be very useful and will fill your life with great joy.
Download completely free on your phone or tablet and read or listen to the Holy Word anytime anywhere, even offline.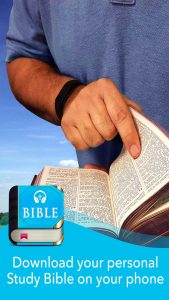 Try our app and enjoy its features:
– The famous King James Bible with Scofield commentaries
– Thousands of notes
– Sub-headings to clarify the meaning of the books
– User-friendly interface
– Free downloading
– Audio Bible to hear the Word of God
– The app works offline, no Internet connection required
– Bookmark verses and add to a list of favorites
– Add your own notes to the verses
– Send them or share on social networks
– Search by keyword
– Increase or decrease the font size of the text
– Select Night mode to protect your eyes when reading at night
– Remember the last paragraph read
Study Bible will become the Bible of your choice!
Carry it to the church or use it for personal study. Enjoy reading or listening to God's Word anytime. Scriptures will bring Joy to your heart and peace to your Soul.
Study Bible consists of 66 books divided into two sections: Old and New Testament:
Old Testament: Genesis, Exodus, Leviticus, Numbers, Deuteronomy, Joshua, Judges, Ruth, 1 Samuel, 2 Samuel, 1 Kings, 2 Kings, 1 Chronicles, 2 Chronicles, Ezra, Nehemiah, Esther, Job, Psalms, Proverbs, Ecclesiastes, Song of Solomon, Isaiah, Jeremiah, Lamentations, Ezekiel, Daniel, Hosea, Joel, Amos, Obadiah, Jonah, Micah, Nahum, Habakkuk, Zephaniah, Haggai, Zechariah, Malachi.
New Testament: Matthew, Mark, Luke, John, Acts, Romans, Corinthians 1 and 2, Galatians, Ephesians, Philippians, Colossians, 1 Thessalonians, 2 Thessalonians, 1 Timothy, 2 Timothy, Titus, Philemon, Hebrews, James, 1 Peter, 2 Peter, 1 John, 2 John, 3 John, Jude, Revelation.